-->
By Gloria Dulan-Wilson
Hello All:
Well it's down to the wire, it's the countdown to the first major election since the T-rump debacle, and all eyes are on Georgia's 6th District. Will Jon Ossoff prove that Americans have learned their lesson about taking their vote for granted, of will they continue to be stuck on stupid and allow him to fall short of winning.
That is the big question. Amidst the fundraising, and the speechmaking, the real question is has America gone comatose under the miasma of the Trumpenstein monster, or are they really mad as hell and looking to take back their power.
Well I truly hope so. I'm tired of the lamentations with no action. I'm tired of hearing litany after litany after litany about the insanity of the current incumbent - now is the time to begin flexing our political muscles - empower ourselves to rid ourselves of these miscreants- and if we have to do it one office at a time - so be it! But we'd better be about it - and we cannot wait for the next presidential election.
We have to be in there voting for everything from dog catcher to congress; from judge to whatever else out there has a Democratic tag or affiliation on it. We blew our margin for error on November 8, 2016 when Americans actually had the temerity, gall, audacity, stupidity to think they could just sit it out and still come up with a good president.
How's that working for you? SMH
If you don't live in the district in Georgia, but know someone who does, call, email, send up smoke signals or whatever else you need to do to make sure they are out there voting tomorrow.
If you don't live in the district, but you do live in Georgia, get up and get out and help get out the vote. No excuses. And for the rest of us - freedom ain't free - it costs money - so chip in that little bit they're asking for and stop carping. You waste more than that on Starbucks and sneakers. We can't afford to roll over and play dead any more. The country - the world is watching.
So what's it gonna be GA?
Stay Blessed &
ECLECTICALLY BLACK
Gloria
From:
Keith Rouda, BoldProgressives.org
Jon Ossoff, middle, alongside Rep. John Lewis (left) and Rep. Hank Johnson (right).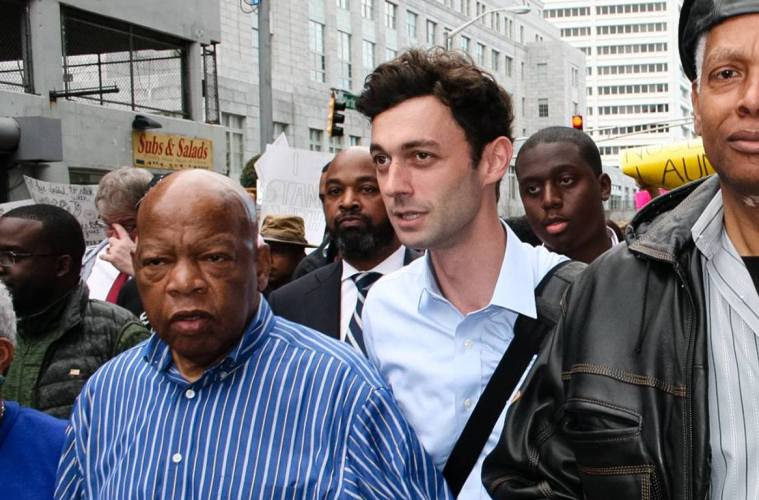 Can you chip in $3 to Jon Ossoff's crucial Election Day push?
HELLO ALL:
One day before tomorrow's special election for Congress in Georgia's 6th District,
The New Yorker
highlights the extraordinary national support for Democrat Jon Ossoff:
Hundreds of local volunteers are going door-to-door to spread his message.
New York magazine recently called Jon Ossoff "The Trump-Hate Weather Vane." Big Ossoff stories have also appeared recently in Time and The Atlantic.
Actor Samuel L. Jackson recorded radio ads for Ossoff saying "Stop Donald Trump, the man who encourages racial and religious discrimination, and sexism."
Can you chip in $3 to Jon Ossoff's campaign for his crucial Election Day push against a field of 17 other candidates?
BIG UPDATE: We're now up to $65,000 from over 2,500 grassroots donations!
The
New Yorker
also wrote about comparisons being made between last week's close congressional special election in Kansas and tomorrow's special election in Georgia:
"Unlike Ossoff, Thompson [in Kansas] had just a few hundred thousand dollars at his campaign's disposal, and tougher math to deal with: Trump had won Kansas's Fourth District by twenty-seven points in November, while the President only took Georgia's Sixth by one."
Can you chip in $3 to Jon Ossoff's campaign for his crucial Election Day push against a field of 17 other candidates?
--Keith Rouda, PCCC organizer
---
Want to support the Warren wing?
Senator Elizabeth Warren says, "When PCCC members donate millions in small-dollar donations and make millions of phone calls for progressive candidates, leaders in Washington, they take notice."
Chip in $3 here
.
Progressive stickers, T-shirts, and more!
store.boldprogressives.org
FOLLOW US:
Paid for by the Progressive Change Campaign Committee PAC (
www.BoldProgressives.org
) and not authorized by any candidate or candidate's committee. Contributions to the PCCC are not deductible as charitable contributions for federal income tax purposes.
Have you moved? Want to update your email address?
Click here
.