By Gloria Dulan-Wilson
Hello All:
There is absolutely no way to encapsulate the excitement and energy that permeated the 2016 Democratic National Convention. And few realized the impact that it's presence in Philadelphia had on many of the younger citizens who live here. I was on the subway heading to Center City - Market Street - when I overheard a young girl - aged 9 - ask her grandmother whether or not Donald Trump was going to be in Philadelphia. The grandmother stated that he probably wouldn't come to Philadelphia because people don't like him very much here. The granddaughter then replied:
"I wish he would come here to Philadelphia,"
which shocked the grandmother and prompted her to ask why she wanted Trump to come here.
"So I can throw rotten tomatoes at him, so we can throw eggs at him because he's evil. I want him to come so I can hit him upside the head with a tomato with a worm in it."
The entire subway fell out laughing - but this little girl was totally serious. So her grandmother told her that Trump would not be there, but that President Obama, Hillary Clinton and other important people would be. So she immediately asked if she could go. "
I want to see President Obama so I can hug him and tell him how much I love him and Ms. Obama."
After that, I had to jump in and tell them about the different programs that she could attend at the Convention Center. I couldn't guarantee that she would meet President Obama, but she could pick up some really nice things with his and the First Lady's pictures on them.
I don't know whether they attended any of the venues, but judging from this little lady's enthusiasm and focus, I'm pretty sure she was able to get her grandmother to go along.
Folks, if you think our kids aren't paying attention to what's going on, you're totally wrong. Multiply that little girl by hundreds of thousands across the US who are daily exposed either directly or vicariously to the evil and hate spewed out by T-rump and his cronies. He's frightening and angering our children!
Someone said, on Facebook, that they hated the election because they were told to vote for Hillary to keep T-rump from becoming president; that Hillary was the lesser of two evils. I totally beg to differ - Hillary is not now, nor has she ever been "evil." So let's stop that one right now. She is the better of three choices - and has always been so. In choosing between T-rump, Bernie, or no vote at all - she is the clear victor because her track record - not the one portrayed by the repuglycons and the mean stream media - but real, proven 40+ year track record of service and advocacy stands for it self. The best thing to do is to not watch the meanstream media's constant barrage of garbage, and begin to do your own homework.
It had been speculated that Cory Booker was being considered as Hillary Clinton's running mate; however they needed him to remain in his position as US Senator from the State of New Jersey.
US SENATOR FROM NEW JERSEY - CORY BOOKER
I am including the link to Cory Booker's speech from July 25, here, because there were just too many pithy points made to summarize it adequately:
http://www.nj.com/politics/index.ssf/2016/07/dnc_2016_what_njs_booker_told_the_delegates.html
Most don't realize that the Democratic National Convention is as much about business as it is about nominating a viable presidential candidate. To that end, Marcia L. Fudge, who is now the permanent chair of the Democratic Party (replacing Debbie Wasserman Schultz), opened the meeting on Monday by stating:
"We have assembled an extraordinary collection of Americans here n this arena. We have traveled thousands of miles, and we are representing the millions of Democrats who, come this November, are going to make their voices heard. We have a choice - a profound choice, this Novembr, and we have to make this choice in a time when the nation finds itself at the crossroads of history and hope. A time of great promise, progress and potential; but also a time of social unrest, hate speeches and war. Hillary Clinton was born for such a time as this."
MARCIA FUDGE
She continued after applause: "
And that is why we are going to have a different kind of convention than the one we saw in Cleveland last week. Because Hillary Clinton and Tim Kaine want to bold an economy that works for everyone - not just the people at the top of an economy where everyone else falls short. Where, if you work hard, you can get ahead and stay ahead. Hillary and Tim want to bring steady and stable leadership to the world. They will work wit our allies to keep America and the rest of the world safe and secure. Hillary and Tim want an America where there are no barriers to opportunity, equality or justice."
During this time that the crowd began to become raucous, drowning out most of what Ms. Fudge was trying to impart causing her to literally depart from her address and speak in a strict tone to the audience: "
Excuse me! Excuse me! this will be a convention where we lift each other up and where every voice, regardless of arc, religion, or sexual orientation is heard and respected. Over the next four days we are going to hear from the leaders of our country and the future of our party. We're going to unite and we're going to make history; and we're going to do everything we can to elect Hillary Clinton and Tim Kaine. Hillary! This is your time!"
As the crowd continued to wave No TPP banners, Ms. Fudge again attempted to bring decorum to the arena: "
Delegates, Democrats may I just make a point. There are many of you that do not know me n this room. But let me say to you, I intend to be fair; I want to hear the varying opinions here. I'm gong to be respectful of you, and I want you to be respectful of me. We're all Democrats, and we need to act like it!"
She then announced her appointees to help her in maintaining decorum throughout the convention: Convention Vice Chairs, Parliamentarians, Sergeants at Arms, Door keepers and Time keepers - "
Each of these officials is dedicated to strengthening our communities and our country. They share Hillary Clinton's and Tim Kaine's positive change mission and will be impactful messengers for the campaign moving forward."
____________________________________### __________________________________________
To further add context to the work of the delegates at the convention and going forward, this, in part are the principles and mission adopted by the 2016 Democratic National Convention:
THIS WAS ADOPTED A WEEK BEFORE THE DEMOCRATIC NATIONAL CONVENTION:
1. Raise Incomes and Restore Economic Security for the Middle Class
Raising Workers' Wages; Protecting Workers' Fundamental Rights; Supporting Working Families;
Helping More Workers Share in Near-Record Corporate Profits; Expanding Access to Affordable
Housing and Homeownership; Protecting and Expanding SOCIAL SECURITY; Ensuring a Secure and
Dignified Retirement; Revitalizing Our Nation's Postal Service
2.
Create Good-Paying Jobs
: Building 21st Century Infrastructure; Fostering a Manufacturing Renaissance;
Creating Good-Paying Clean Energy Jobs; Pursuing Our Innovation Agenda: Science, Research, Education,
and Technology; Supporting America's Small Businesses; Creating Jobs for America's Young People
3. Fight for Economic Fairness and Against Inequality:
Reining in Wall Street and Fixing our Financial System; Promoting Competition by Stopping Corporate
Concentration; Making the Wealthy Pay Their Fair Share of Taxes; Promoting Trade That is Fair and Benefits American Workers
4. Bring Americans Together and Remove Barriers to Opportunities
Ending Systemic Racism; Closing the Racial Wealth Gap ; Reforming our Criminal Justice System; Fixing
our Broken Immigration System; Guaranteeing Civil Rights.; Guaranteeing Women's Rights; Guaranteeing
Rights for People with Disabilities ;Respecting Faith and Service; Investing in Rural America; Ending Poverty and Investing in Communities Left Behind; Building Strong Cities and Metro Areas; Promoting Arts and Culture; Honoring Indigenous Tribal Nations; Fighting for the People of Puerto RicoHonoring the People of the Territories
5. Protect Voting Rights, Fix Our Campaign Finance System, and Restore Our Democracy
Protecting Voting Rights; Fixing Our Broken Campaign Finance System; Appointing Judges Securing Statehood for Washington, D.C; Strengthening Management of Federal Government
6.
Combat Climate Change,
Build a Clean Energy Economy, and Secure Environmental Justice Building a
Clean Energy Economy; Securing Environmental and Climate Justice; Protecting Our Public Lands and Waters

(SOMEHOW THEY COULD NOT COME TOGETHER ON BANNING FRACKING WHICH IS DESTROYING OUR INFRASTRUCTURE AND ENVIRONMENT - SMH)
7.
Provide Quality and Affordable Education
Making Debt-Free College a Reality; Providing Relief from Crushing Student Debt; Supporting &;
PROTECTING Historically Black Colleges and Universities and Minority-Serving Institutions;
Cracking Down on Predatory For-Profit Schools; Guaranteeing Universal Preschool and Good Schools for Every Child (RESTORE VOCATIONAL EDUCATION AND TECHNICAL TRAINING IN HIGH SCHOOLS)
8. Ensure the Health and Safety of All Americans;
Securing Universal Health Care; Supporting Community Health Centers; Reducing Prescription Drug Costs; Enabling Cutting-Edge Medical Research; Combating Drug and Alcohol Addiction; Treating Mental
Health(ILLNESSES); Supporting Those Living with Autism and their Families; Securing Reproductive Health, Rights, and Justice; Ensuring Long-Term Care, Services, and Supports; Protecting and Promoting Public Health Ending Violence Against Women; Preventing Gun Violence
Support Our Troops and Keep Faith with Our Veterans Defense Spending; Veterans and Service Members; Military Families; A Strong Military;
10: Confront Global Threats:
Terrorism: Syria, Afghanistan
11.Protect Our Values:
Women and Girls; LGBT People;.Trafficking and Modern Slavery; Young People; Religious Minorities.;
Refugees; Civil Society; Anti-Corruption; Torture;Closing Guantánamo Bay; Development Assistance; Global;
Health; HIV and AIDS (PREVENTION/CURE); International Labor.;
12.
A Leader in the World
: Asia-Pacific; Middle East; Europe; Americas; Africa; Global Economy and Institutions.
___________________________________ ###__________________________________________________
This and more are what Hillary Clinton and Tim Kaine stand for during this election year - it's not exhaustive, and can be expanded as the campaign goes forward - but gives some serious context to what they stand for.
Now, moving forward to days two and three of the Democratic National Convention 2016 in Philadelphia -
Civil Rights Hero and Congressman, John Lewis, seconded the official nomination of Hillary Clinton to represent the Democrats as their presidential candidates. He stated
"there are forces in America that want to take us backwards. They want to undo 50 years of progress this Nation has made under Democratic leadership. We've come too far. We've made too much progress and we're not going back, we're going forward. That's why we all must go to the polls in November and vote like we never, ever voted before. Eight years ago, our party nominated and elected the first person of color to ever serve in the White House not just for one, but two terms.
JOHN LEWIS
Tonight we will shatter that glass ceiling again. We're the party of tomorrow, and we will build a true democracy in America. I must tell you, I have known Hillary Clinton for many years. She is one of the most qualified candidates to ever run for president. She is a leader, sometimes sailing against the wind to break down the barriers that divide us. She's smart, just smart. She could have done anything with her life, but she decided long ago she didn't want to just do well, she wanted to do good. And so she has dedicated her life to public service and building a better America. I give you a leader who can unite us as a nation, a leader who can break down barriers and build a better future for every American. She will fight for us all with her heart, soul, and mind. My fellow Democrats, I am pleased to second the nomination of Hillary Rodham Clinton as our party's candidate for President of the United States."
Last year, at the 2015 Congressional Black Caucus, Rev. Al Sharpton honored the mothers of the victims of police violence at his National Action Network
reception. I can't help but think he may have been instrumental in bringing these brave mothers together to address the DNC. The recent tragedies in Louisiana, Dallas as well as throughout the US, has heightened the awareness for the necessity of the elimination of domestic weapons of mass destruction whether in the hands of law enforcement officers or law violators.
They have formed an organization called MOTHERS OF THE MOVEMENT: Sybrina Fulton: Trayvon Martin's mom; Geneva Reed -Veal: Sandra Bland's mom; Lucia McBath: Jordan Davis' mom; Gwen Carr: Eric Garner's mom; Cleopatra Pendleton: Hadiya Pendleton's mom; Maria Hamilton: Dontre Hamilton's mom; Lezley McSpadden: Michael Brown's mom; and Wanda Johnson: Oscar Grant's mom.
MOTHERS OF THE MOVEMENT
Three of the mothers spoke through their pain, and explained why they were supporting Hillary Clinton:
Geneva Reed-Veal, Sandra Bland's mom, stated: "One year ago yesterday, I lived the worst nightmare anyone could imagine. I watched as my daughter, Sandra Bland, was lowered into the ground in a coffin. Sandy, my fourth of five daughters, was gone. No, not on administrative leave, but on permanent leave from this earth, found hanging in a jail cell after an unlawful traffic stop and an unlawful arrest. I'm here with Hillary Clinton because she is a leader and a mother who will say our children's names. Hillary knows that when a young black life is cut short, it's not just a personal loss. It is a national loss. It is a loss that diminishes all of us."
When she named six other women who had died in custody that same month - Kindra Chapman, Alexis McGovern, Sarah Lee Circle Bear, Raynette Turner, Ralkina Jones and Joyce Curnell - the entire arena gasped. I'm sure none of us were aware of the fact that there is clearly a pattern to these deaths. Also while I'm writing this, I recently found out that Sandra Bland was a member of Sigma Gamma Rho Sorority - I want to offer condolences to her family and her sorors as well. As Ms. Geneva Reed-Veal stated: "So many of our children gone but not forgotten."
Lucia McBath, Jordan Davis' mom, stated that she didn't stop being a parent the day his life ended, but that she woke up every morning thinking of him and how to protect him and his legacy. Jordan was shot because he was "playing loud music." "Here's what you don't know about my son. When Jordan was little, he wouldn't eat a popsicle unless he had enough to bring out to his friends. He loved practical jokes. He liked having deep conversations about our love for God and why He allows suffering and pain. I lived in fear my son would die like this. I even warned him that because he was a young, black man, he would meet people who didn't value his life. That is a conversation no parent should ever have to have. Hillary Clinton isn't afraid to say black lives matter. She isn't afraid to sit at a table with grieving mothers and bear the full force of our anguish. She doesn't build walls around her heart. Not only did she listen to our problems, she invited us to become part of the solution. And that's what we're going to do. We're going to keep telling our children's stories and urging you to say their names. We're going to keep building a future where police officers and communities of color work together in mutual respect to keep children, like Jordan, safe. Because the majority of police officers are good people doing a good job."
She concluded by saying that they are going to continue using their voices and votes to support Hillary and other leaders like her who will help in protecting families, until there is no longer a need for a club of heartbroken mothers.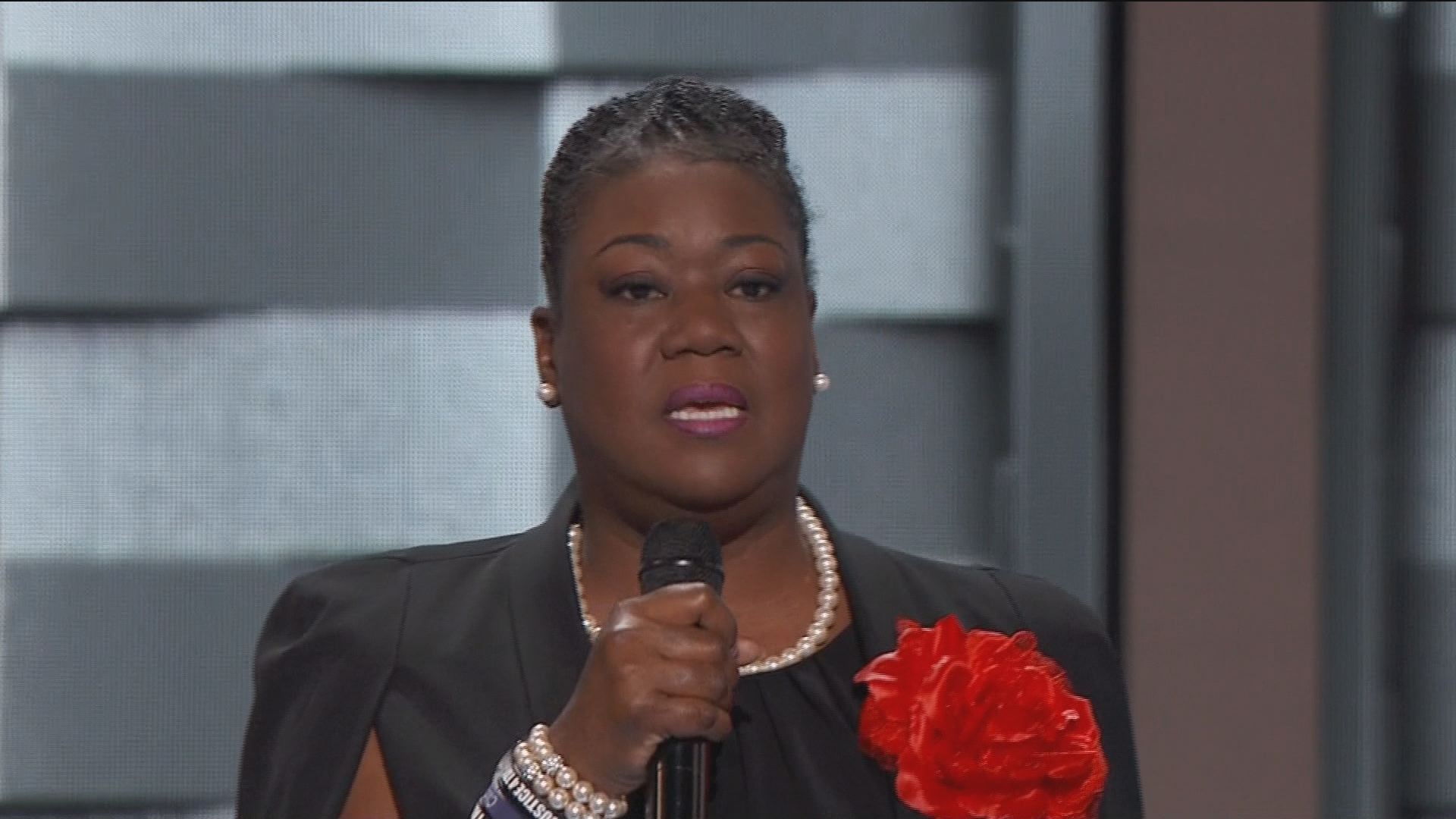 SYBRINA FULTON, MOTHER OF TRAYVON MARTIN
Sybrina Fulton, Trayvon Martin's mom, whom I met three years ago at the National Urban League's conference in Philadelphia, stated: "I am an unwilling participant in this movement. I would not have signed up for this. None of us would have. But I am here today for my son, Trayvon Martin, who is in heaven. And for my other son, Jahvaris, who is still here on earth. I didn't want this spotlight. But will I do everything I can to focus some of that light on a path out of this darkness. Hillary Clinton has the compassion and understanding to comfort a grieving mother. She has the courage to lead the fight for common-sense gun legislation. And she has a plan to repair the divide that so often exists between law enforcement and the communities they serve. This isn't about being politically correct. It's about protecting our children. That's why we're here tonight with Hillary Clinton. And that's why, in the memory of our children, we are imploring you—all of you—to vote in this election. Hillary is the one mother who can ensure our movement will succeed. We leave you what God has given us, strength and peace."
Each of these ladies received a standing ovation from the audience.
FORMER US PRESIDENT BILL CLINTON




Clnton called his wife and presidential candidate, Hillary Clinton: The best candidate for president because "

Well, she's insatiably

curious, she's a natural leader, she's a good organizer, and she's the best darn change-maker I ever met in my entire life."




"Look, this is a really important point. This is a really important point for you to take out of this convention.:

If you believe in making change from the bottom up, if you believe the measure of change is how many

people's lives are better, you know it's hard and some people think it's boring. Speeches like this are fun.

Actually doing the work is hard. So people say, well, we need to change. She's been around a long time,

she sure has, and she's sure been worth every single year she's put into making people's lives better.




"When I became president with a commitment to reform health care, Hillary was a natural to head the

health care task force. You all know we failed because we couldn't break a Senate filibuster. Hillary

immediately went to work on solving the problems the bill sought to address one by one. The most

important goal was to get more children with health insurance. (ALSO BECAUSE THE CHAUVINISTS WANTED HER TO TAKE A BACK SEAT AND JUST BE A TROPHY WIFE).




"In 1997, Congress passed the Children's Health Insurance Program, still an important part of President

Obama's Affordable Care Act. It insures more than 8 million kids.

she became the first senator in the history of New York ever to serve on the Armed Services Committee.

So she tried to make sure people on the battlefield had proper equipment. She tried to expand and did

expand health care coverage to Reservists and members of the National Guard. She got longer family leave,

working with Senator Dodd, for people caring for wounded service members.

And she worked for more extensive care for people with traumatic brain injury. She also served on a special

Pentagon commission to propose changes necessary to meet our new security challenges.

Now, how does this square? How did this square with the things that you heard at the Republican convention?

What's the difference in what I told you and what they said? How do you square it? You can't. One is real, the other i

s made up. You just have to decide. You just have to decide which is which, my fellow Americans. "



Bill Clinton Addresses the Convention
Calling Donald
Trump a cartoon, he stated, "The real one had done more positive change-making before she was 30 than many public
officials do in a lifetime in office. And so I say to you, if you love this country, you're working hard, you're paying taxes and
you're obeying the law and you'd like to become a citizen, you should choose immigration reform over somebody that
wants to send you back. If you're a Muslim and you love America and freedom and you hate terror, stay here and help
us win and make a future together. We want you. If you're a young African American disillusioned and afraid, we saw in
Dallas how great our police officers can be, help us build a future where nobody is afraid to walk outside, including the
people that wear blue to protect our future
Hillary will make us stronger together. You know it because she's spent a lifetime doing it. I hope you will do it. I hope you
will elect her. Those of us who have more yesterdays than tomorrows tend to care more about our children and grandchildren.
The reason you should elect her is that in the greatest country on earth we have always been about tomorrow. You children and grandchildren will bless you forever if you do. God bless you. Thank you.
FULL TRANSCRIPT OF BILL CLINTON'S SPEECH:
http://time.com/4425599/dnc-bill-clinton-speech-transcript-video/
Riding back to the convention center, after such a stirring evening, I had the great good fortune to be sitting across from The Hon. Mayor David N. Dinkins of New York and H. Carl McCall, former New York State Comptroller:
H.CARL McCALL - Former NY State Comptroller
Former New York City Mayor DAVID N. DINKINS
BACK STAGE AT THE CONVENTION WITH GAYLE KING
Two Delta Sigma Theta Sorors staffing the Urban League's Booth
Dr. Julianne Malveaux at the Unity 16 Workshop
Tried to catch up with my Oklahoma Homies while they were there for the convention, but they were staying at a hotel way out in Valley Forge - so this is as close as I could get.LOL
My New York Homies stayed at the Loews - 1 Block away from the PA Convention Center - this is their Donkey who is still standing in front.