Gloria Dulan-Wilson
Hello All:
Just to show you how fast July is moving, people are sending me announcements about events on the same day the event is taking place! Even they can't keep up with their own schedule. Today's the 8th - I'm two days behind on these event alerts because of other events still on the calendar.
Get ready folks, it's only gonna get worse - or is it better? We are moving faster than the speed of thought right now.
Sooooo...... for the sake of my own sanity, I'm going to slow it down a bit; take it back a notch, and do a rewind to this past Monday, July 4th. I had the pleasure and privilege of covering WAWA's Welcome America 4th of July Celebration and Party on the Parkway, where they honored TSOP (The Sounds of Philly) and the great producers, Kenny Gamble and Leon Huff. What a great tribute to these two great men, whose prolific talent has greatly enriched the music industry. What a treasure these two have amassed and shared with us through so many time honored artists.
KENNY GAMBLE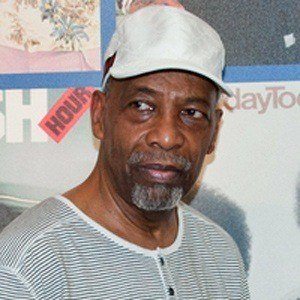 LEON HUFF
Performing in honor of these two great icons were

Harold Melvin's Blue Notes, The Intruders, and The O'Jays!!! Eddie Levert was dancing on that stage like he was a kid!!

They were spectacular. Backing them was none other than the

Urban Guerilla Orchestra (UGO),

who didn't miss a beat! They were so great, that kids, who were there to see artists from their own generation, were dancing in the aisles, and by the time they played the Soul Train Theme, the audience had formed a soul train line and was dancing around the lawn and in front of the stage. The entire show was broadcast live on NBC-TV/Philly Channel 10. Mind you, it was pouring buckets outside - but neither the artists nor the band missed a beat. And the audience remained throughout the entire performance. Kudos and congratulations to brothers Kenny Gamble and Leon Huff for sharing your talent and creativity with the world.
A MOMENT OF CONTEMPLATION BEFORE WE MOVE ON:
BEP
Before we begin, let's take a moment to offer condolences to the families, friends and loved ones who lost friends over this past three day period of violence here in the US. This is a cry for the curtailment of police brutality; for justice for all, not just for some; for the confiscation of ALL WEAPONS OF MASS DESTRUCTION - from the police as well as those who have bought them illegally. And for the replacement of police weapons with tazers, stun guns and tranquilizer guns - there is no need for such heavy artillery in a civilized society. Outlaw them all!! My prayers go out to all my brothers who are targets of these people with licenses to kill - they need to be revoked. Stay Safe, Stay Blessed & ECLECTICALLY BLACK - Gloria
Now, for what lies ahead in terms of upcoming events:
NEW YORK
THE HAMPTONS - NOW THROUGH AUGUST - BOOK YOUR RESERVATIONS
-
https://mail.google.com/mail/u/0/#inbox/155c0bafc456389c

NOW THRU JULY 15 - VOTE FOR EBONY JO-ANN BLUES VOCALIST
SKIP TO CONTENT

Become an informed voter!

Listen to all of the nominated artists before you vote

here.
https://mail.google.com/mail/u/0/#inbox/155c0f1c7a7d483e
YOUNG AFRICANS COMMITTED TO EXCELLENCE = YACE
https://mail.google.com/mail/u/0/#inbox/155c0e6c248bd9c8
** Invitation to Press **
Rooftop Films Presents: The New York Premiere of


GOODNIGHT BROOKLYN – THE STORY OF DEATH BY AUDIO
WHAT

Join Rooftop Films as they recreate the legendary DIY rock scene of Williamsburg's fondly remembered, recently shuttered Death By Audio with the New York premiere of Matthew Conboy's feature film Goodnight Brooklyn – The Story of Death By Audio.
WHERE


On the Roof of The Old American Can Factory232 3rd Street, Gowanus, Brooklyn
SHOW DETAILS




8:00PM

Doors Open


8:30PM

Live Music by Growing


9:00PM

Film Begins


10:30PM

Q&A with Filmmaker Matthew Conboy


11:00PM

After-Party with Live Music by Grooms and A Place to Bury Strangers
JULY 16, 2016
http://www.harlembookfair.com/#!harlem-book-fair/cp78
This is pitiful - what used to be a 2-day event and the pride of harlem has been relegated to one day and is over by 5:00 pm. If that does not tell you that Harlem is under siege, nothing will - SMH Where is the leadership in Harlem? Where are the Harlemites? WTFU Harlem
JULY 31, 2016
BOARD FOR THE EDUCATION OF PEOPLE OF AFRICAN ANCESTRY (BEPAA )INVITES YOU TO ITS 18TH ANNUAL TRIBUTE "REMEMBERING DR. JOHN HENRIK CLARKE"
On
Sunday July 31, 2016 at 3:00 PM
at
Mt. Pisgah Baptist Church at 222 Tompkins Avenue Brooklyn, NY 11216
THE
KEYNOTE SPEAKER IS : Dr. Marimba An
i, Pan African Scholar and Author of the book YURUGU.
ADMISSION IS FREE !! For Further Info Call
(347)907-0629
HOME
PHILADELPHIA
ALL SUMMER LONG
ENJOY
CONCERTS AND MOVIES AT THE DELL EAST
http://www.mydelleast.com
http://www.ticketmaster.com/Dell-Music-Center-tickets-Philadelphia/venue/16503
ENJOY
CONCERTS AND MOVIES AT THE MANN MUSIC CENTER
http://www.manncenter.org/events/list
JULY 8, 2016
Reelblack and PEC celebrate with a special tribute to Aretha Franklin. ARETHA: THE QUEEN OF SOUL (1988/ 1 hour) is an American Masters documentary that covers her career up until she was inducted into the Rock and Roll Hall of Fame. ARETHA: LIVE IN PARIS '71 is a 20 minute concert film originally shown on French TV.


Friday July 8 at The United Bank Building, 3750 Lancaster Avenue. Admission is $5.00 (includes refreshments).
STAY CONNECTED:
ALL SUMMER LONG

: JULY 8 -- AUGUST 16, 2016
CITY COUNCILWOMAN CINDY BASS PRESENTS:
JAZZ IN THE PARK
https://mail.google.com/mail/u/0/#search/mwillis%40pahouse.net/155c70e9aa02005c?projector=1
https://mail.google.com/mail/u/0/#search/mwillis%40pahouse.net/155c70e9aa02005c?projector=1
https://mail.google.com/mail/u/0/#search/mwillis%40pahouse.net/155c70e9aa02005c?projector=1
https://mail.google.com/mail/u/0/#search/mwillis%40pahouse.net/155c70e9aa02005c?projector=1
State Rep. Vanessa L. Brown to host business owner luncheon, Thursday, July 14 - 1:30PM at the Dornsife Center For Neighborhood Partnerships - 3509 Spring Garden St.
The luncheon is designed to help local residents navigate state regulations as they expand, start or relocate small business in Pennsylvania. Local business and financial institutions will be on hand to answer questions and offer advice, as well on
state assistance for current and new businesses, including grants and low-interest loans. Minority businesses can also learn about special state programs that allow minority-run businesses to compete in the state bidding process."
JULY 17, 2016

KAPPA ALPHA PSI COOK OUT - RAIN OR SHINE
12:00-6:00PM

CHAMOUNIX AND GREENLAND DRIVE (FAIRMOUNT PARK)
CONTACT RODNEY JACKS (215) 778-9773
rodney.jacks17@yahoo.com
Bring: Lawn Chairs, food, umbrellas, tents, and supplies to supplement what they have!!
Come and have some fun in the sun with
Kappa Alpha Psi Fraternity Inc. - Philadelphia Alumni Chapter


We say "People need to do something about our youth"
Here's the chance....
S.T.E.P. "Annual Youth Acknowledgement Ceremony
Fundraiser and Dinner
With your support we can continue our efforts in helping curb the random violence, the un-interupted effects of the school to prison pipeline, the recruitment of into gang life and so many of the other pitfalls that await our young Black men....Those who would otherwise become the Leaders we so passionately say we want and we need..
But we must give our young Kings a fighting chance!
DIVINE ONES!
WE'RE BAAACK!! CONTINUING THE CELEBRATION OF LIFE, LOVE AND, THE NEW "GOOD MEDICINE" CD!
COME ON OUT! NO COVER, NO RESERVATION!
ALL ACCESS ENTERTAINMENT GROUP PRESENTS
The
PRIORY
@ St Joseph Plaza
233 W Market St. Newark, NJ 07103
FRIDAY JULY 8TH, 2016

No Cover, No Reservation
7 PM to 11 PM

~ Food or Beverage Purchase Required
Secured parking. Facebook: St. Joseph Plaza and Priory Jazz Club
.
CDs and T Shirts Available For Purchase
BALTIMORE, MD
AUGUST 3 - 6, 2016
NATIONAL URBAN LEAGUE ANNUAL CONFERENCE
http://nul.iamempowered.com/content/save-date-2016-national-urban-league-conference-0
GREENBELT, MD




Friday, August 19th, 2016




This Year's Cause


EVERYDAY WARRIORS - EDUCATION IS KEY


Building a Technical Skills School & Center in
West Africa



You are

cordially

Invited,

Please Save the Date


Friday




Come and Experience a Lively Night of Culture, with a Traditional Dance Ensemble by an

African Dance Troupe

, Celebrity Awards,

Red Carpet,

Contemporary Fashion

Exhibit

,

Traditional Cuisine

,

Prizes

and

Sounds for the Dance Party

by Popular Afro-Beats DJ.

SPECIAL PERFORMANCES and Much More!!!

Location:


Martins Crosswinds Ballroom

7400 Greenway Center Drive
Greenbelt, MD 20770Time:
EVENT: 10pm - 3am

The Gala will be a fun-filled evening, while raising awareness and critical funding for the Construction of Technical Skills Center & School in Rural Sierra Leone in West Africa.

A portion of the proceeds from the Gala will be used to fund construction,

and ship the supplies and rations to Sierra Leone, in order to assist

with the completion of the Technical Skill School & Center

.



JULY 15-17, 2016
Afrikan Sustainability
<blacksustainabilitysummit@gmail.com>



The Liberated Minds Black Homeschool & Education Expo

in Atlanta, GA on

July 15-17

. Baba Cordell presented at our 2016 Summit on the importance of family and survival. He and his wife are celebrating their 5

th

Anniversary of this Expo this year and wanted to share this opportunity with our extended family. This is an opportunity to connect with Afrikan/Black homeschoolers, educators, parents, & families dedicated to cooperative economics. If you do not live in the area, no worries, there will be other events and activities to come your way.

What is The Liberated Minds Black Homeschool & Education Expo? LOG ON TO THE LINK BELOW AND FIND OUT.