By Gloria Dulan-Wilson
Hello All:
This is the last week of June coming up, and it's going out with a bang, and morphing into July - and, I might add, the count down to the long awaited Democratic National Convention in Philadelphia. This next week is full of activities, but everybody seems to have loaded up on the 25th - Saturday - as a day to get it all in.

This is the first week of summer, and most of our kids and grandkids are out of school, home for vacation from college, or seeking that first job. The first week in July is a great time to take a collective breath and a step back and either just chill or get out into the community and enjoy the many things that are happening. The GDW EVENT ALERT tries to give you some idea of what's happening in your neighborhood - it is by no means exhaustive - but I do try to keep it ECLECTIC - taking from a variety of facets of our culture and the culture around us.

That said, if you have events you'd like to bring to my attention, please feel free to email me at eclecticallyblacknews@gmail.com. The deadline for getting it to me is midnight Tuesday.
NEW YORK CITY:
JUNE 23, 2016
CBJC CONCERT
https://mail.google.com/mail/u/0/#inbox/1557a3e64e88cd14
June 25, 2016
STREET NAMING CEREMONY FOR JOHN WATUSI BRANCH
You are Invited
to a
Street Naming Program
176 Street and Jamaica Avenue
Will be renamed to:
"John Watusi Branch Way"
Reception
First Presbyterian Church in Jamaica
89-60 164 Street
JUNE 25
LAURIE CUMBO's BOSS BRUNCH FOR WOMEN
https://mail.google.com/mail/u/0/#inbox/15573fd3dbfac41d
June 25-26
CENTRAL BROOKLYN ARTS AND CULTURE WEEK END
http://campaign.r20.constantcontact.com/render?m=1117158583881&ca=0d39c524-0dc0-403c-b461-3ea765c66be6
JUNE 25, 2016
HARLEM - WHILE WE ARE STILL HERE KICK OFF EVENT
https://mail.google.com/mail/u/0/#inbox/1557abf6b4370526
UN SCREENING OF INTORE
RSVP HERE:
http://bit.ly/1ZO92NX
You are cordially invited to a screening of:
Tuesday, 28 June 2016

6:30 - 8:30 p.m.
Conference Room 4
United Nations Headquarters, New York

RSVP
here:
http://bit.ly/1ZO92NX
"Intore" ("The Chosen") offers a powerful and rare look at how Rwanda overcame its tragic past by regaining its identity through music, dance, and the resilience of a new generation.
The film features musical and dance performances, interwoven with interviews with genocide survivors and perpetrators, Rwandan leaders, legends, and Hollywood elite.
Produced by Rwanda Cinema Center and Park Hill Entertainment, in association with the Kwetu Film Institute and the Rwanda Media Project.
Programme:
Opening remarks by the Permanent Mission of Rwanda
Musical performance by Rwandan singer
Q&A with the co-producers Eric Kabera and Shirley Neal
Organized by the United Nations Department of Public Information.


External guests:
Please make sure to register here
http://bit.ly/1ZO92NX
and arrive at the UN Visitors Entrance (1st Ave at 46th Street) between 5:30 to 6:00 p.m. on 28 June
to receive your ticket and go through UN Security screening. Thank you.
JULY 2-AUGUST
BAC FOLK ARTS EVENTS
https://mail.google.com/mail/u/0/#inbox/15574d26f4e24a28
JULY 1 - 4, 2016
AFRICAN STREET FESTIVAL
International African Arts Festival at 45!
Brooklyn's Most Beloved Celebration
of African Culture and Family | Established 1971
Commodore Barry Park | Brooklyn
Vendors:

Late Registration Ends June 25th!
JULY 5, 2016
HARLEM SCHOOL OF THE ARTS SUMMER CAMP FOR KIDS BEGINS
(DEADLINE FOR REGISTRATION, JUNE 27, 2016)

MY KIDS ATTENDED SUMMER PROGRAMS HERE - THEY'RE ONE OF THE BEST!

Harlem School of the Arts
Summer Day Camp
ARTScape
to introduce Children to the Arts

STARTS TUESDAY JULY 5

Harlem School of the Arts will be offering a summer of fun in the arts to children ages 4 through 12 with ARTScape Summer Day Camp. ARTScape Summer Day Camp is a fun-filled arts experience like no other that will introduce young campers to music, dance, theatre and visual arts through a variety of classes presented by visual and performing artists. ARTScape is a six-week camp, divided into three, two-week sessions from Tuesday, July 5 through Friday August 12, 2016.


Session A
Tuesday, July 5 – Friday, July 15
Registration Deadline: Monday, June 27


Session B
Monday, July 18 - Friday, July 29
Registration Deadline: Monday, July 11

Session C
Monday, August 1 – Friday, August 12
Registration Deadline: Monday, July 25

FOR MORE INFORMATION VISIT:
hsanyc.org/artscape2016
ABOUT HARLEM SCHOOL OF THE ARTS
For over 50 years, HSA has enriched the lives of tens of thousands of young people ages 2-18 through world-class training in the arts. HSA offers its students the freedom to find and develop the artist, student, and citizen within themselves in an environment that teaches discipline, stimulates creativity, builds self-confidence and adds a dimension of beauty to their lives, empowering them to become the creative thinkers and innovative leaders of tomorrow. To learn more about the Harlem School of the Arts please visit
hsanyc.org

.
JULY 7 - 10, 2016
NAKO NEW YORK 37TH ANNUAL CONVENTION
THEME:
BUILDING INTERGENERNATIONAL LEADERSHIP FOR THE NEXT GENERATION
3

7th ANNUAL CONVENTION DEDICATED IN MEMORY OF FOUNDING
MEMBERS
Jitu Weusi
Seydou Enjoya
Achuta Bacar
David Walker
| | |
| --- | --- |
| | NAKO-NY, 1678 Brooklyn Ave., Brooklyn , NY 11210-3427 |
PHILADELPHIA, PA
JUNE 24, 2016
SUN SPLASHED AT THE BARNES
---
Don't miss the opening party for our new summer show Sun Splashed!
Invite your friends to our Facebook event page
Opening party for Nari Ward: Sun Splashed Friday, June 24, 6–9 pm | $25; members $20


Sun Splashed
––the title is based on a 1970s Jamaican reggae festival––explores the relationship between place and self, particularly in tropical locales. Celebrate the opening with summer sips and reggae grooves by Jamaican powerhouse DJ Stone Love.
Be among the first to see this radiant and provocative exhibition!
JUNE 20-25
PLAN PHILLY WEEKLY CALENDAR
https://mail.google.com/mail/u/0/#inbox/1556d77e715912bc
JUNE 24, 2016
KAMA SAHLOR PERFORMANCE GROUP
Also the last day to register for their summer repertory camp - teaching your kids how to act and use their creativity.
https://mail.google.com/mail/u/0/#inbox/15573707cdee9d2a
JUNE 25, 2O16
STEM CELL SEMINAR
This is GOOD FOR WHAT AILS YOU - for those who are tired of suffering from chronic pain, but don't want to live a life dependent on drugs, a walker, a cane or wheel chair - this FREE two hour seminar on Stem Cell Therapy can CHANGE YOUR LIFE, answer a lot of questions and clear up a lot of myths and misinformation. BLACK PEOPLE ARE GENERALLY ON THE LATE SHOW WHEN IT COMES TO HEALTH AND LIFE SAVING INFORMATION - HERE'S A CHANCE TO CHANGE YOUR LIFE AND YOUR HEALTH CHALLENGES FOREVER
Reserve your place by calling 215.649.0220
JUNE 26, 2016
NGOMA FESTIVAL - TRIBUTE TO THE DRUM
In addition to Ngoma Drum Festival, the parks throughout Philly will be filled with family outings. So get ready folks:
COOK OUT TIME IS BACK
JUNE 26, 2016
MUHAMMAD'S MOSQUE NO. 12 PRESENTS SOUND DOCTRINE LECTURE SERIES
https://mail.google.com/mail/u/0/#inbox/155789400a29c2ad?projector=1
JULY 4, 2016
ATAC (AVENGING THE ANCESTORS COALITION) HOLDS BLACK INDEPENDENCE DAY COMMEMORATING OUR ANCESTORS AND THEIR OWN STRUGGLE FOR FREEDOM
JUNE 27 - JULY 4, 2016
CELEBRATE The 240th ANNIVERSARY OF THE DECLARATION OF INDEPENDENCE
Nobody does the FOURTH OF JULY LIKE PHILADELPHIA - Starting on June 27th and running through July 4, there are non-stop events throughout the city.
This is the 240th Anniversary of the DECLARATION OF INDEPENDENCE - There will be so much to do, you'll want to clone yourself!! These are the links to some of the activities. 4th of July in Philadelphia is like celebrating Christmas - they turn all out from one end of the city to the other - From back yard BAR-B-Qs to picnics in the park and on the waterfront, to three nights of spectacular fire works and roof top parties - so be prepared.
Getty Images for National Museum
Gamble & Huff (l-r: Leon Huff & Kenny Gamble)
The music of "Sound of Philadelphia" legends Leon Huff and Kenny Gamble will be celebrated with groups like Harold Melvin's Blue Notes...
This year, PARTY ON THE PARKWAY CELEBRATES THE ICONIC SOUNDS OF PHILADELPHIA AND THEIR FOUNDERS - KENNY GAMBLE and LEON HUFF AND THE OJAYS, THE INTRUDERS - AS WELL AS BROTHERLY LOVE, AND LEON BRIDGES - AMONG OTHERS. You won't want to miss any of this and the free fireworks displays!

! FREE - STARTS AT 5:00 ON THE BEN FRANKLIN PARKWAY!
http://m.phillytrib.com/entertainment/wawa-welcome-america-festival-will-pay-tribute-to-sound-of/article_0a9e9c46-bccf-54b8-9dbb-7acfedad585c.html?mode=jqm
http://www.visitphilly.com/articles/philadelphia/fourth-of-july-in-philadelphia-wawa-welcome-america/#sm.001cql20v18osejutls2nx7aafw4g
Getty Images
Yazz the Greatest
Actor/singer Bryshere Gray, aka Yazz the Greatest, is known for his role on "Empire" but did you know he hails from West Philly?
http://www.nbcphiladelphia.com/entertainment/the-scene/Wawa-Welcome-America-July-4th-Concert-Lineup-380276381.html
OTHER AREAS AROUND THE DIASPORA
CHICAGO, IL
JUNE 24-25
CHICAGO CHILDREN'S MARCH AND OTHER ACTIVITIES
Recently, the
MacArthur Foundation
announced they were giving away $100 million dollars to anyone in the world with any idea on the same weekend that 70 people were shot in Chicago. Black children in Chicago are laying claim to that $100 million dollars for their ideas to stop violence in Chicago. (
NOTE: THIS AWARD IS NOT LIMITED TO CHICAGO - SO NEW YORK, PHILADELPHIA, NEW JERSEY, WAKE UP AND START THINKING ABOUT WHAT YOU COULD/WOULD/WILL DO AND PUT TOGETHER A WORKABLE PLAN
)
140 South Dearborn Street
Please call 773.285.9600 to register your children for this march and for bus transportation. Please call MacArthur Foundation at 312.726.8000 to ask it to support grantmaking that reduces violence in Chicago.
The Black children of Chicago are demanding $100 million of the $7 billion that MacArthur Foundation has in assets be used to invest in Black and Latino communities of Chicago and to help stop the violence that is killing and maiming Black and Latino children in Chicago. They want investments in entrepreneurship, job, skill development, technology, after school, tutoring, mentoring, violence reduction, counseling, parent development and Black empowerment programs.
3rd Annual

Mass Black Male Graduation Ceremony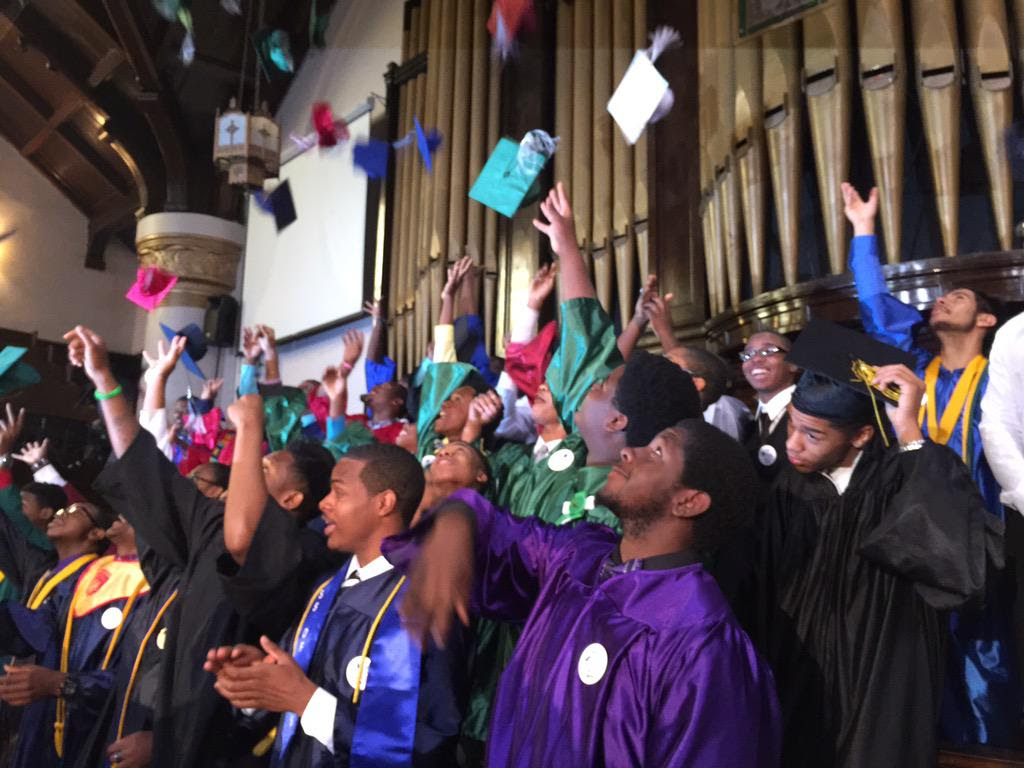 Saturday, June 25, 2016
10:30 am - 12:30 pm
Metropolitan Apostolic Community Church
4100 South King Drive
Chicago, IL 60653
This ceremony is designed to honor the graduates for their accomplishments and show them what is possible by introducing them to distinguished, successful individuals. After the ceremony, new graduates will have the opportunity to network and engage with Black male leaders in the community. Join us to network with these men, and hear the keynote address from George Wright, Midwest Director of Community Development at Citi.
College, High School and Elementary (8th grade) graduates are invited to participate. Graduates will receive light refreshments before the ceremony.
Scholarship Opportunity!
Graduates who register for the ceremony and complete the very short application are eligible to win one of seven
$250 scholarships/workforce development stipends
.
This event is free and open to the public. All family, friends, and community members are encouraged to attend to support these new graduates.
JUNE 28, 2016
Rainbow PUSH Coalition
PRESENTS:
INTERNATIONAL SHOWCASE & SYMPOSIUM
LOS ANGELES, CA
JUNE 25
HIP HOP SISTERS FOUNDATION FOR WEALTH
https://mail.google.com/mail/u/0/#inbox/15573dd00c86acf6
There's absolutely no reason for anyone to say they're bored or that there's nothing to do - or no place to go - get up, get out, enjoy!

StayBlessed &
ECLECTICALLY BLACK
Gloria