Hope you're adjusting to the early Spring Forward Daylight Savings Time - it's taking me a minute to deal with the change in body clock - but at least we'll actually have more daylight to get things done. Now if they would just leave it at this and not mess with it anymore, things would be great.
There are a number of events in the offing - and I've been off the mark and posting them - so here are just a few events you definitely want to be involved in in the New York or Philadelphia areas - particularly if you are involved in either African, Caribbean or African American issues - or, hopefully all three. And if you are a woman of African Heritage - regardless of whether you come from the US, the Caribbean, Africa, South America - you've so much to be proud of, and so much to do. There are so many wonderful things going on simultaneously all over the map - but if you attend even one of them, you're be enriched and empowered and inspired in ways you could have never imagined.
As always, we Black woman are seriously busy trying to change the world and make it a better place for ourselves and our families - our loved ones. And that is infinitely more difficult in the age of T-Rump - but we never allowed any barriers to deter us in the past - and we're sure not let it stop us now.
I am especially proud of my African Sisters who have endured much and still are fighting to move forward - in a foreign land, with a language that's not their own. They are constant reminders of those of us who were born here (from ancestors who were kidnapped from the motherland) that we still have the same wonderful gene pool and DNA, and can learn so much from each other, and share so much with each other.
My dear sister/friend, Marie Claudine Makumabano - a survivor of the horrific Rwandan genocidal war always amazes me - with her beauty, charm, freshness, and her drive to help us survive and thrive. She is a dynamo unto herself - and you can't help but come away awestruck at the very power of this sister, who literally escaped the jaws of death. She is on a divine mission and knows it.
Another dynamic and inspirational sister/friend is Youma Ba, from Senegal - who has established, not one, but two restaurants in ,the Philadelphia area. In addition to that, she is active in her community, and has established an organization called ECHOES OF AFRICA.
And that's not say that our brothers aren't likewise doing wonderful and significant things as well - because they most definitely are. On March 29, 2017, the second annual African and the NBA workshop will be held at Wells Fargo Arena - 4:30 - 6:30 PM - with the theme of Agri-Business and business relations between the NBA and Africa on the agenda.

NEW YORK CITY:


WEDNESDAY, MARCH 22, 2017
You are invited to attend the screening of our Entrepreneurship Documentary Film and engage in lively panel discussions on the following topic: ENTREPRENEURSHIP, The Tool to Economically Empower Women, Girls, Our Families and Orphans to Sustain Themselves and Their Communities Locally and Globally. Come to share and learn strategies and best practices to inspire and encourage creativity and productivity at our parallel event during the NGOs United Nations Commission on Statues of Women (CSW61) Forum.
DATE: WEDNESDAY, MARCH 22,2017
Time: 10:30:00 AM
Venue: Salvation Army [See Map
Room: Auditorium
MARIE CLAUDINE MAKUMABANO
Initiated and Organized by A CNN HERO NOMINEE & SELF PUBLISHED AUTHOR, Marie Claudine MUKAMABANO, A Rwandan Orphan, Genocide Survivor, Founder and CEO of WHY DO I EXIST ? KUKI NDIHO RWANDA ORPHANS SUPPORT PROJECT with a Mission to Promote Peace, HEAL & EMPOWER RWANDAN ORPHANS AND WOMEN AND GIRLS AROUND THE WORLD.
Marie Claudine MUKAMABANO
Founder & CEO of
WHY DO I EXIST?/ KUKI NDIHO RWANDA ORPHANS SUPPORT PROJECT
www.whydoiexist.org
https://www.youtube.com/watch?v=RmcVjtxkqio
SATURDAY MARCH, 25, 2017
ASAP FERG to donate large scale oil painting at first A$AP Yams Commemorative Gala & Art Auction
ASAP FERG to donate large scale oil painting at first A$AP Yams
Commemorative Gala & Art Auction
A painting Ferg made after Yams' death will be up for auction this weekend at a NYC Gala hosted by the ASAP Foundation
ASAP Ferg is pleased to announce that he will donate a large scale oil painting that the rapper/designer/painter originally debuted during Art Basel Miami Beach 2015 to the A$AP Yams Commemorative Gala & Art Auction that will take place this weekend in New York City.
The painting—called "Tatted Angel"— is a piece that Ferg painted after Yams passed away features an angular backdrop of New York City streets, a breakdown of inspirational A$AP-oriented phrases, and of course an illustration of Yams himself, hugging a globe and shooting beams of light out of his eyes.
The gala, co-hosted by the
ASAP Foundation
(Always Strive and Prosper Foundation)
and the Department of Psychology at Columbia University, will be held on Saturday, March 25, 2017, in New York City to
honor the legacy of Steven "A$AP Yams."
Yams passed away on January 18, 2015.
Proceeds from the gala and auction will be utilized to promote realistic education and awareness regarding substance use and abuse. The ultimate goal is to keep young people safe and knowledgeable by providing them with the best available information without judgement or morality.
ABOUT - ASAP FOUNDATION
The ASAP Foundation is dedicated to disseminating useful information to alert the general public--especially youth--to the dangers of irresponsible use. Overall, the foundation aims to create an honest dialogue with the youth that avoids propaganda and places more focus on providing facts and relevant information. Proceeds from the charity event will go towards social media awareness campaigns, middle and high school seminars with recording and multi-media artists and professionals, as well as alternative arts programs focused on honing talents and discovery excursion in New York City.
WEDNESDAY, MARCH 29, 2017
THURSDAY, MARCH 30 2017
BROOKLYN BOROUGH PRESIDENT ERIC ADAMS INVITES YOU TO HIS ANNUAL LADIES FIRST EVENT FOR WOMEN'S HISTORY MONTH:
Join me on

Thursday, March 30th

at Brooklyn Borough Hall as we close out Women's History Month with our annual celebration, including a series of workshops tailored to educate, engage, enlighten, and empower women. This year's event is focused on entrepreneurship, finance, and health, and I am particularly excited about our diverse array of honorees who represent the countless sheroes that make Brooklyn great.
Ladies first!
-Eric
My Fabulous sister/friend - master Africanologist -
the Wonderful Dr. Rosalind Jeffries - Wife of Professor Leonard Jeffries
(Now there's a dynamic duo - if there ever was one!)
BLACK HISTORY MONTH PART II
FOCUS ON WOMEN
DR.ROSALIND JEFFRIES
Dr. Jeffries serves as a Art Historian and Curator for the African American Historical and Cultural Museum of Jersey City and the Metropolitan Museum of Art. Also she servies on the Board of Directors for the National Conference of Artists of New York.
"BLACK WOMEN
&
THE FUTURE OF AFRICAN PEOPLE:
FRIDAY, MARCH 31, 2017 6;30pm--8:30pm
Bedford Stuyvesant Restoration Plaza
!AAFestival Office, Suite 401
1360 Fulton St., Brooklyn, NY 11216
Suggested minimum donation $7.00
For more information call
_________________________________________________________________________
PHILADELPHIA
MONDAY, MARCH 20, 2017
Please attend ATAC's monthly meeting
Monday, March 20 at 700 p.m. at Zion Baptist Church,
Broad and Venango Streets.
And bring a friend!
NOTE: ATAC - AVENGING THE ANCESTORS COALITION
THURSDAY, MARCH 23, 2017
http://us2.campaign-archive2.com/?u=c0b0c9dc1e013db2cd49bb8ff&id=450f51a2fb&e=0a9c1df3f2
SATURDAY, MARCH 25, 2017
Dear Supporters:
The Fellowship will host the 2nd Annual Purpose Career Fair for men of color
which gives current and prospective Black male educators opportunities to
get guidance from career advisors, participate in mock interviews, and meet
with employers from the School District of Philadelphia, charter and
parochial schools.
http://www.1000x2025.org
As a supporter of our mission to help triple the number of Black male
educators in Philadelphia schools by 2025, you know how integral a
successful career fair is in pairing any educator with the right
institutional match. All the more so for Black male educators given their
unique challenges they face in the student-to-teacher pathway and the
criticality of their retention in the profession. Nationally, Black men make
up 2% of the US teacher workforce and just 4% in Philadelphia public
schools.
Which is why we are asking you to spread the message about our upcoming
PURPOSE Career Fair scheduled for
Saturday, March 25th
at the Shoemaker
campus (5301 Media Street) from
9 a.m. to 1 p.m.
Here is what you can do NOW :
1. Spread the word: Post/ send email the attached Career Fair ad to your
social networks and/or to all your friends and family using the hashtag
#TheFellowship #BMEC. This will help us to achieve solidarity in promoting
opportunities in education for aspiring Black male educators. Candidates can
REGISTER here

<
https://hiringfair.eventbrite.com
>

at the Eventbrite.
2. Show leadership: Forward this email to your school leaders and ask for
the opportunity for your school to be represented at the Purpose Career Fair
to recruit more men of color to your school. Please direct school leaderes
to email us at
1000x2025@gmail.com
1000x2025@gmail.com
> for more
details on how to sign up.
We look forward to a successful fair with unprecedented numbers of men of
color interviewing with our 30 + school partners. For further questions,
please contact us
1000x2025@gmail.com
1000x2025@gmail.com
> and a
representative will assist you.
The Fellowship Team
SATURDAY, MARCH 25, 2017
THE
Women's Leadership Conference,
hosted by Echoes of Africa and the African and Caribbean Business Council; Saturday, March 25th from 10:00 AM to 2:00 PM
This will be an excellent a resource for both current and aspiring women entrepreneurs and leaders. The whole event is
FREE
including a lunch. Please pass this along to anyone you know (men included!) who you feel could benefit from this conference.
SUNDAY, MARCH 26, 2017
WOMEN'S HISTORY MONTH:
NABFEME CELEBRATES LIVING LEGENDS AT
WOMEN WHO JAM!
Mann Center for the Performing Arts' Rhoda A. Blount to Receive Shero Award
WHAT:
The Philadelphia and Delaware chapters of The National Association of Black Female Executives in Music & Entertainment
TM
(NABFEME) will join forces to present
Women Who Jam!
, a salute to female music pioneers. This "power salute"
will feature the presentation of the Shero Award to Philadelphia's own
Rhoda A. Blount
, vice president of education and community engagement at the Mann Center for the Performing Arts. In addition, "The First" Award will be presented to
Sylvia Traymore Morrison
, America's first African American female impressionist. The evening of music and celebration will feature various artists performing popular tunes from past decades.
WHERE:
WarmDaddy's, 400 S. Christopher Columbus Blvd., Philadelphia, PA 19147
WHEN:
Sunday, March 26, 2017
Doors open at

7:30 p.m.

; Show starts at

8:30 p.m.
WHO:
Rhoda Blount
,
Vice President of Education and Community Engagement, Mann Center for the Performing Arts
Sylvia Traymore Morrison, America's first African American female impressionist
Shirley Lites, NABFEME Philadelphia Network Leader
Performers: Tracey A, Suzanne Burgess, Ericka Dawn Glenn, Charlene Holloway, Jaz the Voice Jordan, Barbara St. Lee, Ms. Millie, Pamela Renee Smith, China White
About the Mann
The Mann Center for the Performing Arts' Education & Community Engagement Program, under the direction of Rhoda A. Blount, reaches 30,000 young people annually and more than 550,000 since 1997. The Mann's Connecting Arts-N-Schools program offers city-wide schools a wide array of multicultural performances in music, theater and dance. This gives thousands of students the opportunity to experience the sights, sounds and rhythms of live performances – often for the very first time.
As one of the foremost outdoor music centers in the country, the Mann has a historical legacy of artistic excellence as a world-class entertainment destination presenting premier artists in association with AEG Live. Each summer season, renowned symphony orchestras, iconic rock stars and the latest touring artists in indie rock, hip hop, R&B and pop take the stage here. The Mann is the summer home of The Philadelphia Orchestra and presented critically acclaimed performers in every decade since the 1930s. Located in the heart of Philadelphia's Fairmount Park, the Mann hosts more than 200,000 visitors annually. Signature concert experiences are surrounded by Philadelphia's stunning skyline and include seats beneath the Mann's acoustically acclaimed pavilion; picnics, blankets and music under the stars on its great lawn; and dining in Crescendo, the venue's spectacular tented restaurant. For more information, visit
www.MannCenter.org
.
About
the National Association of Black Female Executives in Music & EntertainmentTM (
NABFEME
)
NABFEME
is a vibrant, interactive, women's networking and empowerment association with a mission to raise the profile and increase awareness of women of color in music and entertainment. The women of
NABFEME
share
a common goal to learn, educate and collaborate

to deliver meaningful results.
NABFEME
makes a difference through five (5) areas of service
–
education, mentorship, networking, sisterhood and faith. For more information, visit
nabfeme.org
.
MARCH 26, 2017
Peace good peoples!!
Good morning Greatness is within us all Now, more than ever, it is time to unite ! Purchase your 2nd Annual Black History Is 365: Always Forward Festival ticket today on Eventbrite!
Sunday, March 26th from 12pm until 8pm at the Church of the Advocate located at 1801 W. Diamond St, Philadelphia, PA 19121
In an effort to promote black history 365 days a year, this 2nd Annual Black History Is 365: Always Forward festival is focused on educating our people about our rich history.
This all-inclusive event includes a Live DJ, food and fun for the entire family.

This year we have international guest youth speaker King Nahh. Our Nat Turner symposium will feature a panel discussion led by two gentlemen: One, the author of a book on Nat Turner's life; and the other has written a play on Nat Turner's life.
Excerpts from the play "Life of Nat Turner: Unspoken Heroes" will also be performed.
Workshops on relationships, benefits of a midwife/natural child birth, agriculture , natural homeopathic remedies , Black Holocaust Museum of Slavery, and real estate investment and ownership will be featured.
We will feature live, raw and cooked foods/beverages.
The entire family will have an opportunity to visit and support /patronize our African Market Place!
Children will enjoy our children's corner, including fun face painters!
.
Thank you.
Sincerely,
Black History Is 365
MONDAY, MARCH 27 - SATURDAY, APRIL 1, 2017
PHILADELPHIA'S FIRST INTERNATIONAL BUSINESS WEEK EXPO
On

Monday, March 27th at 2:30 pm

in Conversation Hall, City Hall as we celebrate the start of IBW, Mayor Kenney, the Commerce Department and the Office of Immigrant Affairs will welcome New American Economy (NEA)
, an organization focused on highlighting the

vital role that immigrants play in our economy
. At this launch NEA will present
their latest research, Map the Impact, an interactive map which includes

important data on the impact of immigrants in Philadelphia, Pennsylvania and the country.
https://beta.phila.gov/posts/office-of-immigrant-affairs/2017-03-09-immigrant-business-week-2017-march-27-april-1/
Please note the Food Truck Spotlight throughout the week, which

will celebrate the entrepreneurial spirit and cuisine of 5 immigrant-owned food trucks and food carts around town.

More information on the weeks' events can be found at:
www.phila.gov/PHLimmigrantbiz
.
TUESDAY, MARCH 28, 2017
WEDNESDAY MARCH 29, 2017
March 29 marks the second annual African Caribbean Heritage Night Celebration - which will be Co-Hosted by the Philadelphia 76ers
JOIN THE AFRICAN AND CARIBBEAN BUSINESS COUNCIL FOR A NIGHT OF FUN as they cohost their Second Annual African Caribbean Heritage Night
with the 76ers and the AFRICAN BUSINESS FORUM
This year's theme is THE FUTURE OF AGRI-BUSINESS IN AFRICA
There will subject matter experts on hand from the embassies of Benin, Burkina Faso, Cameroon, Ivory Coast, and Mali - who will make presentations on the
status of Agricultural Production in their respective countries.
Holt Logistics Corp. will make a presentation on their services they can provide to African Countries in the realm of Agricultural Production; and the the
Philadelphia 76ers will make a presentation on the NBA IN AFRICA.
KEYNOTE SPEAKER Dr. Robin Renee Sanders, will speak on her new book, THE RISE OF AFRICA'S SMALL AND MEDIUM SIZED ENTRPRISES
The SCHEDULE OF EVENTS ARE AS FOLLOWS:
4:30 - 6:35PM AFRICAN BUSINESS FORUM
PHILADELPHIA 76ERS: NBA & AFRICA
ALL GUESTS WILL HAVE ACCES TO THE CLUB BOX (VIP) FOR FOOD AND TO VIEW THE GAME
7:00 - 10:00PM
PHILADELPHIA 76ERS V. ATLANTA HAWKS
TICKET PRICES: $99.00
ALL TICKETS HAVE $30 VALUE TO PURCHASE FOOD AND BEVERAGES AND ACCESS TO THE CLUB BOX
TO PURCHASE TICKETS CONTACT NICK TOLAND, ACCOUNT EXECUTIVE GROUP EVENTS
215.339.7697
EMAIL:
NickToland@sixers.com
Hon. Stanley L. Straughter, Chairman
AFRICAN AND CARIBBEAN BUSINESS COUNCIL GREATER PHILADELPHIA
THE ENTERPRISE CENTER
4548 MARKET STREET, PHILADELPHIA, PA
215.817.9887 - CELL
AND MARK YOUR CALENDARS FOR SATURDAY, APRIL 8 FOR THE 14TH ANNUAL JUANITA KIDD STOUT ECONOMIC EMPOWERMENT EXPO - SPONSORED BY THE PHILADELPHIA ALUMNAE OF DELTA SIGMA THETA SORORITY INC
.
FEATURING THE GREATEST ENTREPRENEUR OF ALL TIMES!
KENNY GAMBLE AS THE KEYNOTE SPEAKER!
COME WITH A DREAM - LEAVE WITH A PLAN
Click the link below to register and for more info:

PLEASE NOTE: There will be a special 2-hour workshop for First Time Homebuyers, featuring NACA (NEIGHBORHOOD ASSISTANCE CORPORATION OF AMERICA)

Those interested in participating in the NACA Workshop should indicate it on registration on the EVENTBRITE FORM - Participation makes you eligible for Free Down Payment, Free Closing Costs, and reduced Mortgage Interest Rate - Must be 18 or older for this workshop.
NOTE: If you are a vendor and want to participate in the event, please contact
jks@phillyalumnae-dst.org
for details
Who's Going
Oops! We're having trouble connecting to Facebook. Please
try again
.
Event Details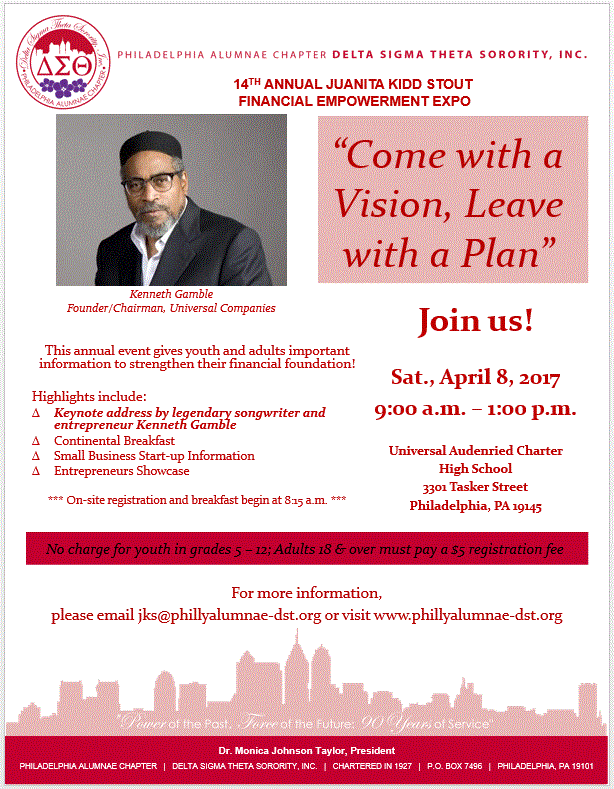 NOW THAT YOU KNOW
WHAT ARE YOU GOING TO DO ABOUT IT?
STAY BLESSED &
ECLECTICALLY BLACK
GLORIA