By Gloria Dulan-Wilson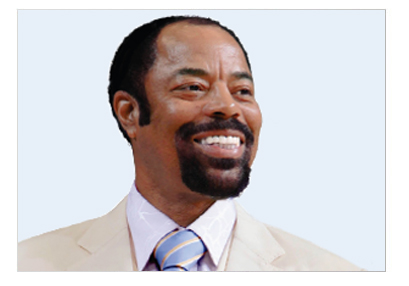 WALT "CLYDE" FRAZIER
Hello All:
I'm starting off this Monday with health, happiness and blessings on my mind, and came across this piece from the Health and Hospitals Corporation (HHC) of NYC. And it struck me as an appropriate way to begin the day.
As many of you know, my Mom, Ruby Love Dulan, passed on April 14 at the age of 91. She was a beautiful, spirited woman to the end.
What you may not know is that she battled diabetes and kidney problems for the last third of her life - and when I say battled, I mean BATTLED! The onset of diabetes occurred subsequent to the passing of my father - they had been married for 47 years, and had been an active, happy couple. I think a form of melancholia set in, and Mom just didn't get up, get out, and do like she used to. The upshot of that, a year or so later, according to her physician, was the diagnoses of diabetes.
Now I'm not saying that melancholia is the cause of diabetes. What I am saying is that, plus debilitating inertia, and of course snacking on all that wonderful food my Mom used to prepare for Dad and the rest of the family, combined to produce this horrific disease.
The first thing I did when I learned of the diagnoses, was do my usual research into which herbs, vitamins and protocols she needed to take to help her defeat this. However, the combination of the kidney problem was something we were not prepared for. My brother, Syl, who remained home in Oklahoma City, and became her primary caregiver.
However, this is where the story changes drastically. Instead of a person who was confined to the house, or who continued to deteriorate, my Mom Ruby Love, met the challenge head on. She began to learn everything she needed to know about diabetes, diet, sugar levels - whether or not it was insulin dependent, etc. She literally rolled her sleeves up and decided, at the age of 67, that she wasn't going out like that. She wasn't losing any limbs, or sight, or other functions. My mom had always been a fighter and a winner. She changed her diet, her routine, her attitude.
And though she had some setbacks, she made it to age 91! - with my brother's help, great doctors, a lot of prayers on the part of my sister Brenda and myself. She was up, walking, talking, meditating, feeding the birds, traveling (she drove until she was 85!!)
There was an episode when the doctors treating her for diabetes, and the doctors treating for the kidney failure gave her conflicting medications, which caused her to swell up, and freaked my brother out, because he thought Mom was going to die. I called the hospital from NYC, spoke with the doctors, and threatened to sue them if they didn't get their acts together and work in synch with each other. The problem never happened again. (Sometimes you have to put your foot down too, you know.)
I'm saying this to say, if a little bitty 5'3" African American/Cherokee woman in Oklahoma City can survive diabetes, there are a whole lot of savvy Black sisters and brothers in NYC who can do the same!
We celebrated my Mom Ruby Love's 90th birthday on February 22, 2013 in Oklahoma City, OK. With all the family around her, she blew out those candles. When she passed on April 14, it was because she decided that it was time to go and be with my Dad. They are happy together again as our Ancestor/Angels.
I'm sharing Walt "Clyde" Frazier's HHC Wellness article in case you've not seen it, and urging you to get your health back on track. Stop accepting diabetes as a "Black people's disease." Don't claim what you don't want to have happen in reality. Claim health, healing, happiness!! Like the brother said, "I believe in winning;" and that's a good place to start. If you want something, first get it in your mind. Have a "winning" mindset, and you can defeat diabetes, and any other challenges you face.
Stay Blessed &
ECLECTICALLY BLACK
Gloria Dulan-Wilson
The article follows:
WALT FRAZIER PUTS A SLAM DUNK ON DIABETES!
Walt "Clyde" Frazier

The legendary NBA champion joins forces with the New York City Health and Hospitals Corporation (HHC) and shares his compelling personal message to help empower patients with diabetes:


Q. Why is it important to you to get involved with diabetes education?




Frazier:

Diabetes has devastated my family. I've seen loved ones lose their limbs and lives because of diabetes complications. My aunts, uncles and grandparents have suffered from diabetes. Now my nieces and nephews have it or are at risk for it, because of obesity. I've been fortunate not to get it - -but I work hard to help prevent it. I'm not only concerned about diabetes in my family but society, as well. That is why I am partnering with HHC to empower and educate patients and let them know that diabetes is a serious condition but it can be prevented and controlled.


Q.

What's your message to patients with diabetes?


Frazier:

Take control of your diabetes and don't let diabetes take control of you. Try to maintain a healthy lifestyle that involves sensible exercise, good nutrition, regular glucose monitoring, and regular visits to your HHC health care team. Winning involves team work and fighting diabetes involves working with your health care team to reach your goals. Diabetes can affect every part of your body and you should take advantage of the extensive support the New York City public hospitals have available for you, including doctors, nurses, nutritionists, dentists, eye doctors, foot doctors, and diabetes educators. I believe in winning and living with diabetes is a challenge you can win.


Q.

What's your advice for people who want to avoid getting diabetes?


Frazier:

Education is the key. Learn as much as you can about diabetes. You need to be armed with information, so that you can make major changes to your routine. That's what has helped me. It's best to change your bad behaviors before diabetes is even present. I often tell people they should 1) work with a nutritionist to develop a healthy diet plan, 2) figure out a sensible exercise plan to get physically fit, especially if you are overweight, and 3) have your blood sugar levels tested every 3 months if you have a family history of diabetes. You control your own destiny --- take charge of your health.


Q.

How are you taking charge of your health to keep from developing diabetes?


Frazier:

I saw how my family suffered from diabetes and I know how I've suffered with the loss of their lives. I didn't want that to happen to me and I didn't want to put my kids through that. As a former athlete, I've always been committed to being fit. I like working out and I try to exercise 4 to 5 days a week. I try to get eight hours of sleep, if possible. My diet now consists of foods that are high in protein and low in carbs. I can prevent diabetes through proper diet and exercise.


Q.

What is your opinion about the high incidence of diabetes in the community?


Frazier:

I have been working to raise awareness about diabetes for a long time and have seen first hand the prevalence of diabetes particularly in the African American and Hispanic communities. In New York City, the incidence of diabetes has reached epidemic proportions -- mostly due to the growing obesity epidemic nationwide. My advice to people who are at high risk of diabetes or who already have it is to get out, get active, stop watching so much TV or playing computer games. Adopt a balanced diet and put a slam dunk on all junk or fast food. Develop a diet and exercise plan and do it for life, not just a week or two. If you don't take care of yourself now, you'll definitely pay for it later.


Q. What sensible exercise tips do you have for people with diabetes?




Frazier:

As you get older, it is sometimes more difficult to do things you usually do, especially exercise. I'm self-motivated and I don't need to work out with anyone. However, my advice to others is to use the buddy system. Try working out with your spouse, friend or family member. You can plan group activities in the park or take long walks in the mall. Make it fun and do a little at a time. Try to maintain an easy flow, as you go

.




Q. How do you keep a balanced diet?




Frazier:

As an athlete, I have always watched what I ate. But, I eat better now than when I played for the Knicks. During the season, I knew that I could always lose those 5 to 10 extra pounds due to the intensity of the game. But now, I am very strict and more disciplined about what I eat. I try to balance my diet by eating high proteins such as lean meats, fruits, vegetables and whole grains. I also try to limit my carbohydrates like: bread, potatoes, rice and pasta. I've had to educate myself about healthy food choices. As I mentioned earlier, education is key in the fight against diabetes.


Q. Can the average person or a diabetic be a role model for diabetes education?




Frazier:

You don't have to be a celebrity to be a role model. When it comes to diabetes education, it's about individuals setting goals and the community working together that counts. If you are a diabetic patient - then talk to others like you and share your struggles and successes. Invite your family members who don't have diabetes but may be at high risk to join your diet plan or exercise program to help them prevent getting it. Whether you are a celebrity or average person, we need to win the fight against diabetes. And as a former New York Knick and NBA basketball champion, I believe in winning!###
For more information log onto www.nyc.gov/hhc

N

OTE: Of course, in addition to the dietary protocols, there are some naturapathic modalities that also work in stemming the devastation of diabetes. The HHC may or may not be aware of them, but they have proven affective in the treating, and in some cases, the cure, of diabetes. In addition to dealing with regular doctors, arm yourself with the knowledge of these herbs and spices - including Cinnamon, which is great for maintaining stable blood sugar levels, and Ginger - both of which are available to you in your local supermarkets. GDW





Did you order your: I AM ECLECTICALLY BLACK TEE SHIRT YET? They're available for a limited time only (July 29 deadline) and are only $19.99! Order through www.Teespring.com/ECLECTICALLYBLACK


Check us out on FaceBook!






Now that you know, what will you do about it?




Stay Blessed &




ECLECTICALLY BLACK




Gloria







-->